Sealed and Ventilated UPVC Soffits
The Homefront Roofline Ltd of Surrey, specialists in the repair and installation of UPVC Soffits.
Why choose Sealed or Ventilated UPVC Soffits?
No painting or maintenance and will not flake, rust or crack
Installation guaranteed for 10-years and expected to last 50+ years
Manufacturer colouration guarantees of up to 50-years
Comes in many colours including white, black, grey, mahogany and oak
What are soffits and what do they do?
Soffits are non-loadbearing structures that form a small ceiling between the exterior property wall and the inner edge of the fascia. Their primary purpose is to weatherproof the underside of the rafter feet and prevent birds, vermin and insects from entering the loft space.  Soffit profiles can range from a few centimetres to well beyond a meter depending on the property construction. They can be non-ventilated or ventilated.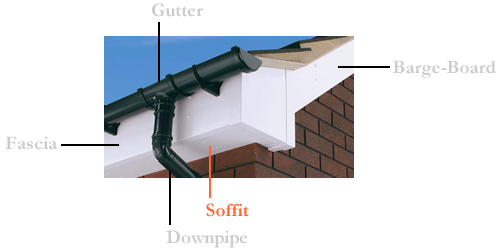 How are soffits installed (timber-backed fascias)?
In a timber-backed system the soffit is attached on one side to the supporting beam with concealed stainless-steel nails. As in the previous example, the other side of the soffit is supported by the exterior wall and is bonded in place by a silicon sealant.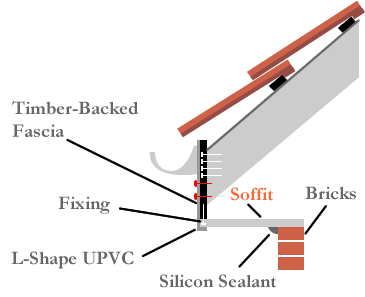 How are soffits installed (self-supporting fascias)?
Self-supporting fascias have a pre-cut groove that accepts one side of the soffit. The other side of the soffit is supported by the exterior wall and is bonded in place by a silicon sealant.
Can soffits be over-clad?
If the existing soffits are structurally sound and free from rot then over-cladding can be a cost-effective alternative to repainting.  The over-cladding process involves covering the existing soffits with a 9mm UPVC board. It is worth noting that over-cladding is rarely used and in 99% of our projects we remove the existing timbers and install new ones.
NB: We advise caution if considering an over-clad solution.
What are ventilated soffits?
Roof-space ventilation is very important. If your roof-space is not ventilated properly then the roofing timbers can get damp and rot. There are two roofline systems that can be used to ventilate your roof-space. These are known as Over Fascia Ventilation and Soffit Ventilation Grills. Below is a diagram showing the airflow through a Soffit Ventilation Grill.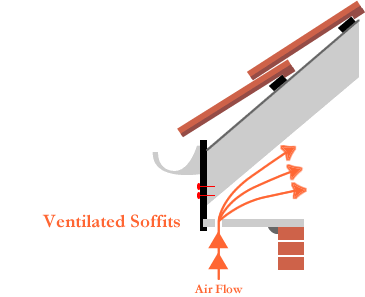 Alternatively, learn about Over Fascia Ventilation.
What are foiled soffits?
Click here to learn about foiled UPVC soffits.
Need a quote or want to know more? Request samples, ask advice or arrange a free no-obligation quotation.